When Tom Kennedy and his family moved to Bournemouth last year, they didn't know anyone. Thanks to GetSet for Growth East Dorset Tom was able to meet other business owners and entrepreneurs.
He said the support from the business development service had been invaluable when relocating his business. Tom, 36, owns and runs The Crop, a collective of talented freelancers and creatives who come together, like "The A Team", to take on a variety of projects. Their projects have included work for Adidas, Nintendo and Bombay Sapphire. Tom originally set up the company in London about four years ago. Last November he moved with his wife and daughter to Pokesdown in Bournemouth.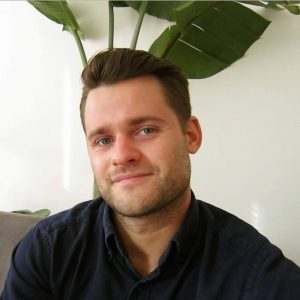 Tom connected with GetSet East Dorset to find out more about the business community. He said: "Sarah and the team have given me a great grounding in the area and helped me meet people in the business community through their workshops and events. They have given me solid advice and it's great to be able to talk through ideas face-to-face. They are a great sounding board and a fantastic resource."
The GetSet for Growth East Dorset programme offers businesses looking to grow, 12 hours of free 1:1 mentoring and advice, as well as workshops and events. The programme is part of the Dorset Growth Partnership and is funded by the European Regional Development Fund.
Tom added that Bournemouth was a great location for creatives. He said: "I see Bournemouth as a really exciting place to be over the next 20 years – it's going to be really interesting to see how the town develops. There are so many opportunities for people to be out of London but still doing really interesting projects."
Originally from Bristol, Tom moved to Australia at 11 – as his parents are both Australian. He then returned to the UK for university, before moving back to Sydney for five years. He said his plan had always been to live outside London with his family and they had fallen in love with Dorset.
This is just one example of over 22,500 businesses that have been assisted by YTKO's services since 2006. According to an independent impact assessment commissioned in 2020, YTKO's support has enabled the creation of 6,574 businesses, over 10,500 sustainable new jobs and an estimated £2.61bn in sales income. The businesses that have received support in that time, have also been proved to be fitter and better funded with over 76% of new firms surviving more than three years and having raised around £71.3m of growth finance.