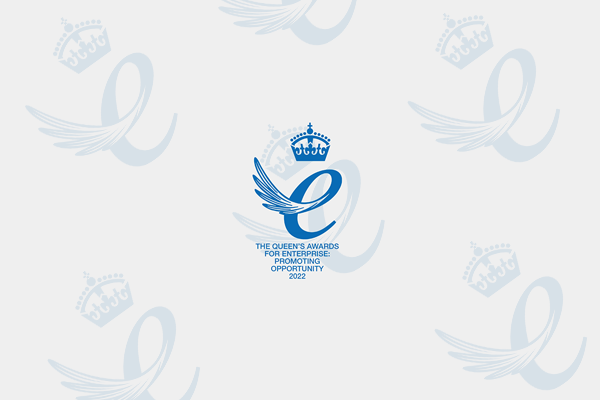 YTKO wins Queen's Award for Enterprise 2022
YTKO has been honoured with a 2022 Queen's Award for Enterprise, one of only 226 organisations to be recognised nationally.
The awards celebrate the success of exciting, innovative businesses which are leading the way with pioneering products or services, delivering impressive social mobility programmes or showing their commitment to excellent sustainable development practices.
Announced today (Thursday 21 April), YTKO has been recognised for its excellence in promoting opportunity through social mobility, winning one of only nine awards in this category for 2022.
YTKO's 100+ team is led by CEO, Bev Hurley, CBE, who has previously won the Queen's Individual Award for Enterprise Promotion in 2010, and is the current Chair of the Institute of Economic Development.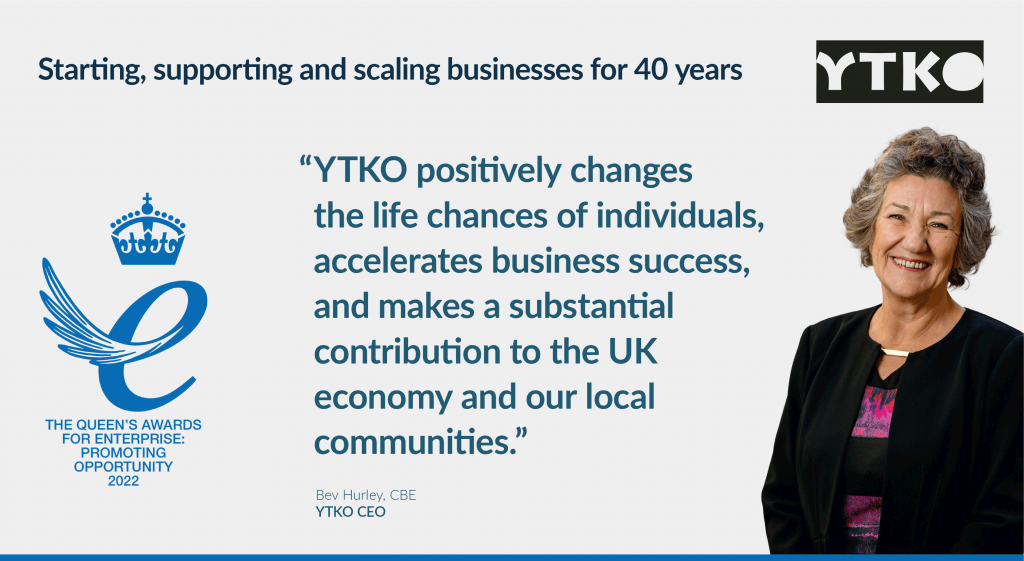 "Being honoured with the Queen's Award is a wonderful recognition of the work and the impact that the whole team has achieved. Everything we do is all about making a tangible, positive impact, changing the life chances of individuals, measurably transforming and accelerating business success, and contributing to the economy and the communities in which our business operates". 

Bev Hurley, CBE
YTKO has helped entrepreneurs start, sustain and scale their businesses for over 40 years, through both strategic consultancy and hands-on operational support over the full lifecycle. A relentless focus on creating measurable results has contributed to economic and social prosperity by generating wealth and jobs.
An independent evaluation of YTKO's Social Mission concluded that over a 15 year period, covering recession, austerity, Brexit and Covid, YTKO helped nearly 31,000 entrepreneurs, and over 22,500 growing businesses. This work, including the raising of £73m in finance, enabled the creation of over 10,300 new jobs and a conservative estimate of £691 million GVA for the economy.
For new entrepreneurs, YTKO's Outset service combines personal and business skills development, and focuses on the critical success factors for sustainable enterprise. Many of the entrepreneurs supported are from deprived areas and disadvantaged backgrounds – those most in need of effective support under the Levelling Up agenda.
YTKO are delivering the three of the UK Governments' new Community Renewal Fund pilot programmes working with the Cambridge and Peterborough Combined Authority, Devon County Council and Portsmouth City Council, in their respective regions. These "Start and Grow" programmes help new entrepreneurs and early-stage small businesses get on track for success.
"Economic growth must be really inclusive, otherwise the Levelling Up agenda will fail to make a difference to our left behind or underperforming communities.  Our track record proves that financial and social exclusion can be overcome.  We're so proud that not only does the 3-year survival rate of our clients' businesses outstrip the UK average, but that over half of them are women – and we support BaME businesses at 4x the average."

Bev Hurley, CBE
For YTKO, it's not just about starting and sustaining, but ensuring that existing companies achieve their full growth potential, which is why they deploy a suite of services tailored for every stage of the business lifecycle. YTKO's GetSet for Growth and GetSet Accelerate services are designed specifically to help small SMEs grow, and high growth scale-ups to accelerate their growth. Through GetSet, we provide SMEs with professional 1:1 coaching and consultancy to help them overcome their growth challenges, masterclasses, mentoring, peer support, connections, grants and equity. We provide high growth businesses what they need in order to scale and create sustainable, high quality jobs for their local economies.