Solent Skills Bootcamps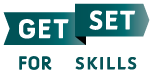 New Skills Bootcamps to give your career or business a boost
We are providing Skills Bootcamps for businesses and learners in the Solent region. These are free, flexible courses of up to eight weeks, giving people the opportunity to build up sector-specific skills and fast-track to career progression. They are also designed for anyone planning to start-up or already running their own small business.
These will be delivered in a blend of online, in-person and where relevant site visits and where possible we will accommodate hybrid learning and recorded sessions for those who are unable to attend any sessions.
The Skills Bootcamps are fully funded for learners and are part of the Government's Lifetime Skills Guarantee, helping everyone gain skills for life. They are designed to help teach and strengthen skills for anyone who wants to increase their business activity, up-skill in their current role, or gain vital skills to secure a new position.
Eligibility
Skills Bootcamps are available to residents and anyone working or intending to work in the Solent region.
We also have Skills Bootcamps running in Cornwall and Devon and the West of England so if you live in these areas, click here for more information.
How are these Skills Bootcamps funded?
The Skills Bootcamps are part of the UK Government's Lifetime Skills Guarantee, helping everyone gain skills for life, and are funded and managed by Department for Education, Portsmouth City Council and the Solent Local Enterprise Partnership delivered by GetSet for Skills which is part of YTKO.
What topic does the Skills Bootcamp focus on?
Our Skills Bootcamps in Digital Marketing can help you if you are looking to improve your digital marketing skills, or allow your business to benefit from an enhanced digital marketing strategy.
I'm interested, what do I do next?
Or register your interest using the short form below and we'll get in touch to give you more details.
In the meantime, if you have any questions, call 0800 917 5411 or email us here