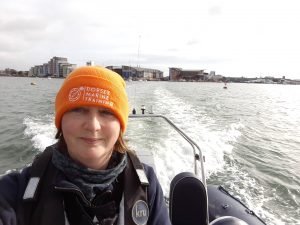 Speaking with Sarah from Dorset Marine Training (www.dorsetmarinetraining.co.uk), its clear how passionate she is about boating.
She has always loved being on the water, starting boating when she was just 6 years old. The mantra of the company is that they want to enjoy being out on the water and to enable other people to enjoy being there too.
Sarah and her life and business partner, Dom Coleman, both became watersports instructors working freelance, and then decided to start their own business. They established Dorset Marine Training in Spring 2017.
"Our aim is to make people love being out on the water as much as we do!" said Sarah, Co-founder.
They train people to drive powerboats or motorboats, and they also teach the full range of supporting courses, e.g. navigation, online courses required for licenses or commercial qualifications, marine radio (VHF). Their practical training can take place on their clients' own boats, or they offer training on Dorset Marine Training boats, and the training is great for complete beginners, those looking to upskill or those just looking to hire in the future.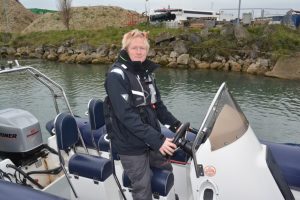 They already have a wide variety of clients. They include people with their own boat who are new to boating and might need help in first navigating the harbour and learning about boat safety. They will often take out the client's whole crew or family for this. They may also work with people wishing to work towards becoming instructors or working commercially on the water. Other clients might be people who have had their confidence shaken a little bit, and they need some training and help in getting to love the boat again or those who upsized their boat. Others will train on the centre's boats and may be new to the water, thinking of buying a boat or want a formal qualification. The majority of their customers are leisure boaters but there is a mix of commercial clients too.
Some want a certificate and some just want to improve their confidence, so before any training starts, they find out the specifics of what the individual wants to achieve and then customise their training to the client's individual needs.
On the water as well as ashore they offer practical RYA courses so that their clients can achieve a certificate as well as bespoke training. Many people are looking to hire boats abroad and to do so they now need an International Certificate of Competency.
GetSet provided the marketing and business advice that was lacking
Sarah and Dom's skillsets are in instructing, so they needed some help on the business side of things, e.g. getting the word out there to find new clients, the financial sides of things and generally being disciplined about running a business. That's where GetSet came in to help.
Sarah first met GetSet at a female networking event (hosted by DWIB) at the Poole Boat show as part of the Maritime Festival. GetSet said they could help even at the beginning stages of their journey. From an initial one to one with GetSet, Sarah says that she gained confidence that their business idea was a good one and also that it was OK to love their business and idea.
"Through initial one to ones with GetSet, they gave me the confidence that my business idea was a good one and to keep going".
On the practical side, she went along to a lot of the free GetSet workshops, particularly the ones dealing with social media, in which she had no experience, and was actually suspicious of to start with. Now she is on all the social media platforms and is particularly active on Twitter and Facebook. She thinks that this is helping to drive the traffic to the main website, which is essentially their shop window. Social media also allows people who did not think that they were looking for boating to find them and see that it is accessible to everyone to participate in.
The marketing support and the reassurance and motivation to keep going, and that it is OK to love their business, is what GetSet provided. She says she has gained a great amount of confidence from that. The workshops gave her a regular event to go to and provided her with a constant focus, particularly important in the early stages of starting your business, which can be quite isolating. Going along to workshops also meant that she met other people who were in a similar situation to her. It did not matter that they were in different fields, they were either facing the same challenges or they could trade insight into challenges others had already been through or were facing.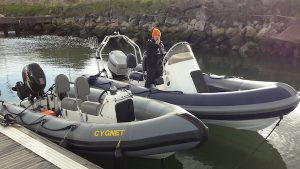 Their vision for the future is for the business to be sustainable as a Training Centre, and to carry on providing quality training and offer professional training in a relaxed and personable environment.
"I would definitely recommend other people to go along to GetSet. Without help from GetSet, I would have struggled more with the confidence to carry on and survive".