Nom Wholefoods is a plastic free wholefoods delivery service, which delivers throughout East Bristol and parts of South Gloucestershire. Founder, Nikki Watten, runs the business out of her home in Fishponds.
Nikki wanted a local solution for sourcing ethically grown food and reducing her plastic use. However, on researching possibilities, she quickly realised that whilst there were some solutions in other parts of Bristol, there was nothing local to her. Therefore, in 2019 she decided to instigate the change she wanted to see and start up her own business, Nom Wholefoods.
Since 2019 Nom Wholefoods has been growing steadily. But as their customer base grows, the space in the house is starting to shrink. Nikki says, ''Now we are at the point where it's time to expand. Many customers have said they would like an actual shop to visit as well as having the option of deliveries and click and collect.''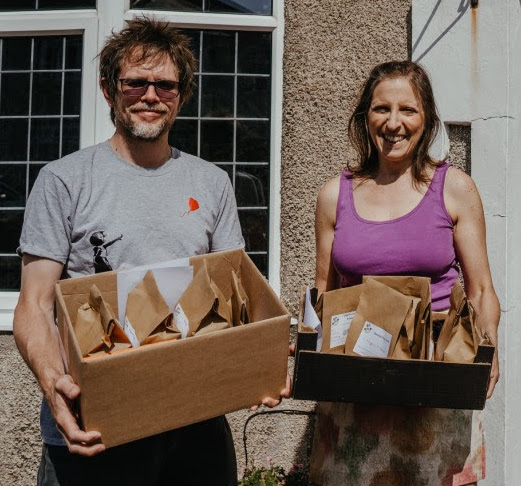 Nikki enrolled on to the North and East Bristol Enterprise Support Programme to help her gain new skills in business. Enrolling in the programme meant that she could access learning resources for growing a business; including 1:1s with business consultants, workshops and an online learning platform.
Speaking on her experience so far Nikki states; ''I've joined two workshops so far, both of which were marketing related. I enjoyed them and both have been really useful. The trainer was very knowledgeable and open to all kinds of questions. It was also good to be part of a group and hear about challenges faced by other businesses and how they do things.''
Armed with the new knowledge on marketing, support on business strategy and more, we're confident that Nikki is going to achieve all of her business goals. When asked about the support on offer Nikki said, ''As most entrepreneurs at the start of their journey, I do everything for the business so don't usually have time to do proper training and research. It's been very helpful to get outside perspectives.''
The help from this government funded support couldn't have come at a better time. The future for Nom is extremely promising as Nikki tells us, ''We will be opening a shop in Staple Hill before the end of the year. We are also in discussion with UWE to deliver to the students at Frenchay and Glenside campus's next year.''
Learn more about Nom Wholefoods at nomwholefoods.co.uk
If you think an outside perspective on your business could be helpful, if you want to check you don't have blindspots in your business strategy, or if you just want to be part of a community of like-minded entrepreneurs, then visit our website to find out more and enrol on our programme. Or get in touch with the team to tell us about your business plans: nebes@ytko.com
North and East Bristol Enterprise Support is fully funded by Bristol City Council and West of England Combined Authority under Universal Business Support. Running until March 2023, the programme is offering workshops in marketing, finance, branding, business planning and strategy and much more, as well as providing free access to e-learning platforms, 1:1 advisor support and networking groups.