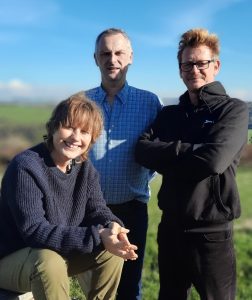 Food equality and ethical food production are hot topics in the media but for the team at Brighton Food Factory, they are their raison d'etre. A non-profit organisation who work tirelessly to reduce food inequality in the local area bring fresh, local produce to local businesses and supply surplus food to the community creating a circular economy where all participants benefit.
Set up in 2019 by Iain Chambers, described as "a passionate advocate for social change," on their website, he was joined by Muir Jankowski the following year. With her, Muir brought valuable experience and a network of local farmers and food producers from her previous business running a fresh fruit and vegetable company which she ran with her partner Nick Sandford, who has also joined the organisation managing logistics.
"It started during the first lockdown, when we offered to help with the food distribution within the local community as volunteers," explains Muir. She describes the situation at that time as "like the food system was in a snow globe which had been shaken violently," forcing the organisation to develop a new business model very quickly and change their working practices.
"We knew that the local community would be hit hard by the lockdown including the farmers who supplied our produce. However local food became a real issue close to people's hearts at this time and there was a demand to help each other which echoed with our core values," explained Muir.
She goes on to explain that the Brighton Food Factory is focused on ensuring that the local community have access to fresh produce, local farmers and producers have a distribution network at the same time as creating jobs, benefitting the environment and reducing carbon emissions through the efficient delivery of produce around the area.
They gradually settled into a new way of working, building the systems and processes to work efficiently, but they realised that they needed to grow the organisation to make it work better for the people they work with. They discovered through The Business Hothouse that they were eligible to apply for an Invest4 grant and with support from GetSet for Growth Coast to Capital, they have been successfully awarded funds to purchase two new vans in which they can deliver the produce. "The vans will give us more capacity for deliveries and help us to be more effective at what we do," Muir stated.
"We couldn't have been successful in the application without the help of the GetSet for Growth team as the workshops we attended helped us to prepare the documentation required," comments Muir. "The business and financial plan templates they provided were really useful and it was the reassurance provided by the 1:1 support which helped to sustain us when we felt daunted."
Muir explained that as a small organisation which is very busy doing their day job, it sometimes felt overwhelming to pull all the information together for the application such as a three year financial forecast. "However, it did help us to think deeply about our processes and what we wanted to focus on as a team – the Programme Director, Nicola kept us calm at all times and provided so much useful information to help us."
The organisation has a core customer base of around forty local businesses who work with them alongside 16 community organisations which Nick co-ordinates. Muir works with the local farmers to ensure that supply meets demand and has plans for expansion in order to meet growing requests for produce from local businesses.
Muir explained that they have set up a Farming Collective which brings farmers together to look for ways that they can be active in helping them in practical ways. "Farmers have had to look for new ways to negotiate through the factors affecting the agricultural sector which has been badly impacted by recent changes in government policy as well as the impact of COVID-19 which saw many of their distribution channels disappear overnight."
"We want not only to provide support for farmers but also to strengthen the connection between the community, local businesses and the countryside around them which became more apparent during the lockdown where there was heightened awareness around food supply," stated Muir.
"Ultimately we want to be self-sustaining and with the density of farms in the local area and it should be possible to be efficient, through the use of our new vans funded by the grant," stated Muir. Having benefitted from her positive reputation and strong network of contacts within the food and produce sector when joining the Brighton Food Factory, Muir is also looking at new ways of marketing including a new podcast series showcasing their suppliers and customers with the aim of increasing understanding of the effort required to grow and supply the produce they distribute.
"Our work gives us all a great sense of satisfaction and we are grateful for the support received from GetSet for Growth Coast to Capital with the grant application which will enable us to achieve so much more," said Muir.
For more information about the Brighton Food Factory visit their website or follow on Facebook Twitterand Instagram