Like most ideas that arise in a pub, over a glass of your favourite tipple with his friend Mike Stace, the idea of becoming a chocolatier came somewhat out of the blue for Mike Noble. Having had a successful career in business, followed by a period running a B&B, Mike took a two-day course at The Chocolate Academy, coming back with lots of ideas for a new business venture.
Six months of practice and experimentation later, Mike had used the time not only to refine his technique but also to explore if a business based around chocolate was viable and if there was a market for his products. "I knew that I had a love of chocolate and that lots of people shared this love," commented Mike.
Mike identified that there was a potential market in the Sussex area that he lived for high quality artisan chocolate products, having put his previous experience in business planning and marketing in practice. "Looking at the competition within this crowded marketplace, I knew that the branding, packaging and price were key factors in our future success," stated Mike.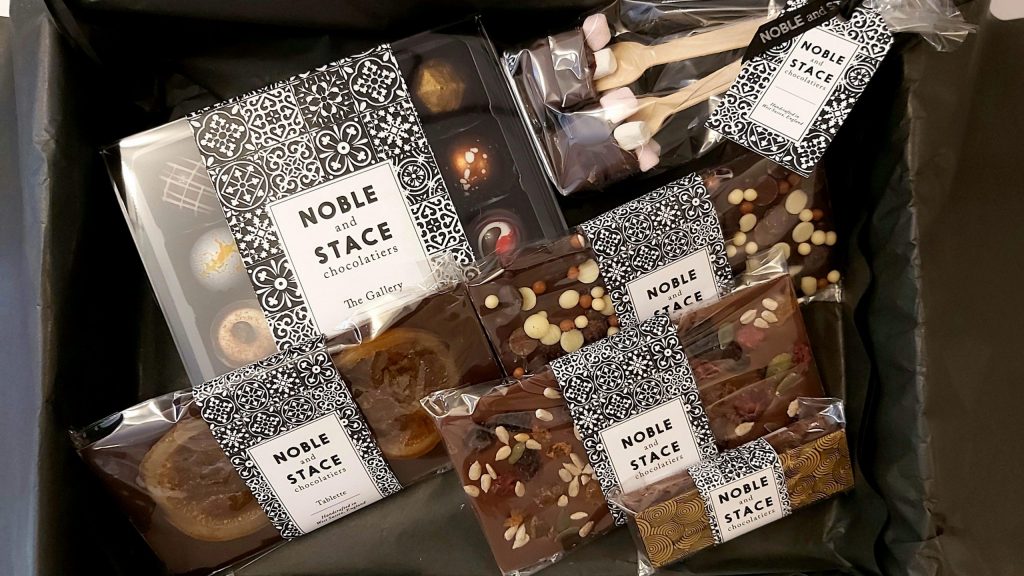 "My differentiation as a company was that everything was made by hand, but this did mean that my production capacity was limited, so initially we didn't sell online," continued Mike, "however when the COVID-19 pandemic hit, we had to rethink this approach."
The trend for people to treat themselves and show support for others through gifting during the lockdowns meant that there was an increase in demand for chocolate. "An advantage that we had as a company was our reputation locally and our use of local ingredients which added to the story behind our products," stated Mike. Whereas the demand from the hotel market disappeared due to them being closed, there was an increase in business from companies wanting to reward or treat staff. As a small company, Noble & Stace were able to personalise items and send to multiple addresses which was a distinct advantage over competitors. The company even introduced a Lockdown tablette which was very popular.
The situation meant that Mike needed to upgrade their website to enable customers to place orders easily and to reach the new markets opening up. Having received business grants previously, he sought to find investment and was referred to The Business Hothouse and in turn to GetSet for Growth Coast to Capital.
Initially I chatted through what we wanted to achieve with Nicola Wiley, the Programme Director and during our 1:1 sessions, she helped me to develop the business plans and financial documents required for the Invest4 grant. She was really helpful, even though I thought I knew how to complete a grant application, the support she gave was very worthwhile.

Mike Noble
Mike submitted an Invest4 grant application for website development to provide customers with a better shopping experience along with a new tempering machine to assist in the production of the products, which would be time saving for the business. The machine would also allow the company to introduce new products more easily and increase the volume of production to service the expected upsurge in customer demand.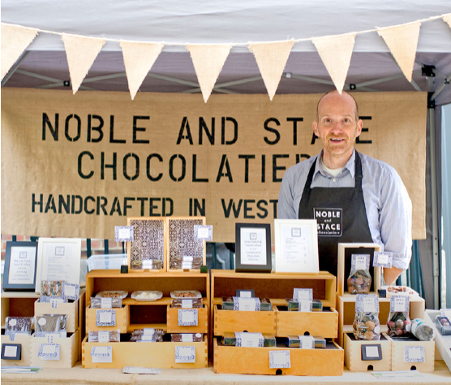 Even with the plans to expand what they do, the company remains true to its original values of using high quality, locally sourced products which have included sparkling wines, artisan gin, cream and butter. "There are seasonal trends in chocolate, and we have seen an increase in customers looking for vegan products. We are looking to develop a subscription service to move away from wholesale to direct sales which will allow us to test products more easily to see what people like," commented Mike.
Their chocolate products are sold in a number of local farm shops and specialist outlets and Mike is now teaching people to how to temper chocolate and make their own truffles in small groups. "This was never part of the original plan and teaching people is out of my comfort zone, but there is so much interest in what we do," added Mike. The future looks extremely busy and with the recent news that the company had been awarded their Invest4 grant, Mike is likely to be even busier!
To find out more about Noble & Stace, visit their website or follow them on Facebook or Instagram