Why business networking works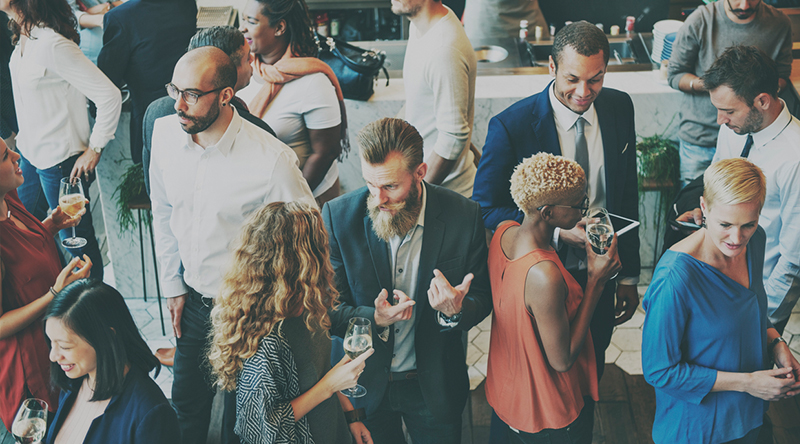 Business networking is a great opportunity for you to meet with fellow entrepreneurs in a convivial setting; and help raise awareness of your business amongst potential clients, suppliers and partners without expectation or obligation on either side.
Networking events can also provide a valuable experience within which to discuss issues of common interest, such as barriers to growth and upcoming technological breakthroughs, and to share ideas and best practice.
The extent to which you can benefit from being a part of a network will depend on the extent of your own commitment. However, with business networking you're amongst friends – attendees will come from similar backgrounds, and share the same goals and objectives. In fact, many networking groups apply their own joining criteria, to ensure that their members share common attitudes and characteristics – in terms for instance of the location, nature and size of their businesses.
The benefits of joining a business network – to entrepreneurs, start-up businesses and SMEs in particular – include:
• Exposure to potential suppliers, partners, customers and even staff,
• A source of qualified business referrals and direct sales opportunities,
• Mutual peer support, advice and information sharing; and, of course,
• The chance to interact with prospective partners and collaborators.
Our Tower Hamlets business support programmes for instance run helpful events and seminars, and provide promotional and procurement opportunities, training and, of course, the chance to connect with other organisations – both within and outside of the group.
Supply Ready provides numerous networking opportunities including access to events and workshops where you are introduced to like-minded business owners in similar situations; monthly Quick Connect networking sessions where you can speed network to meet connections who can support your business growth, and more. To find out more about these networking opportunities, simply register here.
Networking opportunities exist for businesses seeking to establish links with new partners and customers – via for example:
• Education and research organisations,
• Learning networks (usually operated by industry bodies),
• Trade associations,
• Federations (such as the FSB – Federation of Small Businesses),
• Chambers of Commerce,
• Community groups,
• Virtual networks such as LinkedIn and Xing,
• A host of industry specific online discussion groups and forums.
Networks are most successful when there is give and take by members. You should therefore be prepared to share your knowledge and experience – and be willing listen to and learn from others'. If you've been pleased with a particular supplier, let members know, and similarly if you are able to provide a member with a new sales lead, do so.
Partners who are willing to pass on advice to one another (yes, even their competitors) will help to establish their network as a centre of excellence, ensuring its future growth and development.
If your business is an SME registered or located in the London borough of Tower Hamlets and you want sell to more customers, simply drop us an email at info@getsetsupplyready.com.