GetSet for Growth Solent Grants
£700,000 Grant funding now available for growth businesses
Need a cash injection for your Business Growth Project? Are you a Solent-based business? Act now to get a share of £700,000 grant funding from GetSet Solent.
You can apply for a business grant if you are a business based in the Solent LEP area including the New Forest, Isle of Wight, Havant, Gosport, Portsmouth, Eastleigh, Southampton and Fareham. Eligible projects with costs between £4,000 up to £100,000 can access 25% grant funding.
Already in high demand, GetSet Solent recommends applying as soon as possible, so that you do not miss this great opportunity which is only available until 31 July 2022.
The GetSet Solent Growth Grant is for businesses planning a step change in its operations, production, or engagement with customers. The money can be used to fund capital costs such as new machinery, equipment and other assets not funded through asset finance. The grant can also be applied to revenue investment, which includes activities like marketing consultancy, branding and website development, new performance improvement systems such as Client Relationship Management system and developing an app. All helping to increase your business turnover and create new job opportunities.
The grant awarded is up to 25% of your total eligible project cost. So, the maximum grant awarded under the scheme is £25,000 for a total project cost of £100,000. The minimum amount of growth grant is £1,000 with a total eligible project cost of £4,000.
Read about one of our applicants, Redwood, based in Waterlooville, who successfully applied for the GetSet Solent Growth Grant.
Fully funded business and marketing support is also available from the GetSet Solent programme, to assist in accelerating business growth.
Want to find out more?
If you are interested in applying please register your interest here and a member of our finance team will be in touch shortly.
The grant application process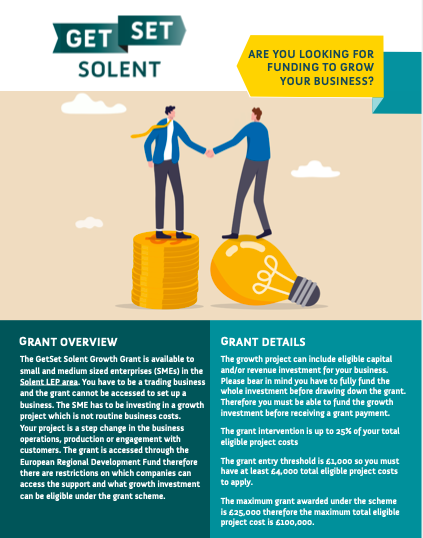 DEADLINE FOR APPLICATIONS IS THE 31 JULY 2022
To register for the Growth Grant, please get in touch or check out our Grant Introduction workshop here
For any queries about the Growth Grant please contact solentfinance@getsetforgrowth.com
Let's get GetSet social