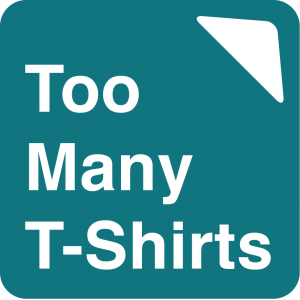 Too Many T-Shirts needed to make the jump from cottage industry, manufacturing products on a kitchen table, to where it now is, an upcycled products provider, recently outsourcing to a UK textiles manufacturer.
They reached out to GetSet for Growth for help with their marketing and in finding a long-term manufacturing partner. As a result of the support provided, they outgrew their studio space, have outsourced their manufacturing, and their management has been released form day-to-day operations to be able to focus on longer-term business growth (working more on the business than in the business).
Too Many T-Shirts started-up in 2017, and make custom t-shirt blankets. These 'memory blankets'upcycle customers' own t-shirts to create a nostalgic and unique memory of times they experienced when wearing their t-shirts, such as a runner's blanket comprising all their race t-shirts.  As well as a very innovative idea, they are also are helping to reduce clothing waste in this clever way.  They further strengthen their sustainability credentials with a real focus on keeping things local and reducing air miles.  As such, they have a wide range of customers, from fanatical runners, keen sports team members, university graduates, football fans, and gig and band fans.
In 2018, having taken GetSet for Growth's advice on funding sources and on their marketing, Too Many T-Shirts crowdfunded on the Crowdfunder platform.  This campaign was a success in gaining overfunding of £24k – 163% of the original target.  319 backers came onboard to make the campaign possible, donating or pledging in return for the product.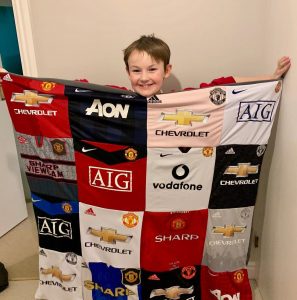 Simon Bellamy, Founder, says, "Our preparation was key to ensuring we built a large audience or 'crowd' in advance of going live.  To launch in the strongest way possible, it was essential to first onboard prospective customers, and warm them up to the future campaign.  As a result, we reached 50% of our target numbers within 48 hours and we were fully funded just a few days later".
Lots of hard work immediately followed the campaign to fulfill all the backers' orders, and they were so happy with their unique products that they have now become long-term customers.
The crowdfunding campaign was also instrumental in a manufacturing company approaching Too Many T-Shirts, who have now become a long-term partner, taking over the manufacture of the blankets. This relationship has been essential in enabling the company to scale.
The future for the business is very bright as they continue to grow, providing income to skilled machinists here in the UK.
Simon says, "I have gained invaluable advice from GetSet for Growth.  Being a solo business owner, sometimes you need that sounding board to clarify your thoughts.  GetSet for Growth have helped me to grow my business to a point where I can now concentrate on my future business strategy.  With a manufacturing partner now in place, they take care of many of the operational elements of the business. I would recommend GetSet for Growth to any other business owners out there that are looking for help or advice in scaling their businesses".