Husband and wife team, Rebecca Dowdy and Scott Blott met in 1997 after she moved to the South Coast to join the Ericsson graduate programme after completing her engineering degree. Fast forward to 2004 and with support from Rebecca, Scott founded Castle Construction while she developed a management career in telecoms and IT for large corporates. Three children later and while working for American Express, Rebecca was looking for a more flexible approach to work around her family and Scott had developed the business as far as he could on his own.
The solution to both issues saw Rebecca resigning from her role and joining the family business, but sadly Scott's mum was then diagnosed with terminal cancer. Providing palliative care at home meant that the focus was moved from the business, as well as looking after the children who were still young.
Once Rebecca was in a position to give her attention to Castle Construction, she set about defining clear roles between herself and Scott to ensure that they both worked on the areas that they had individual strengths as well as provide some breathing space for them as a married couple working together.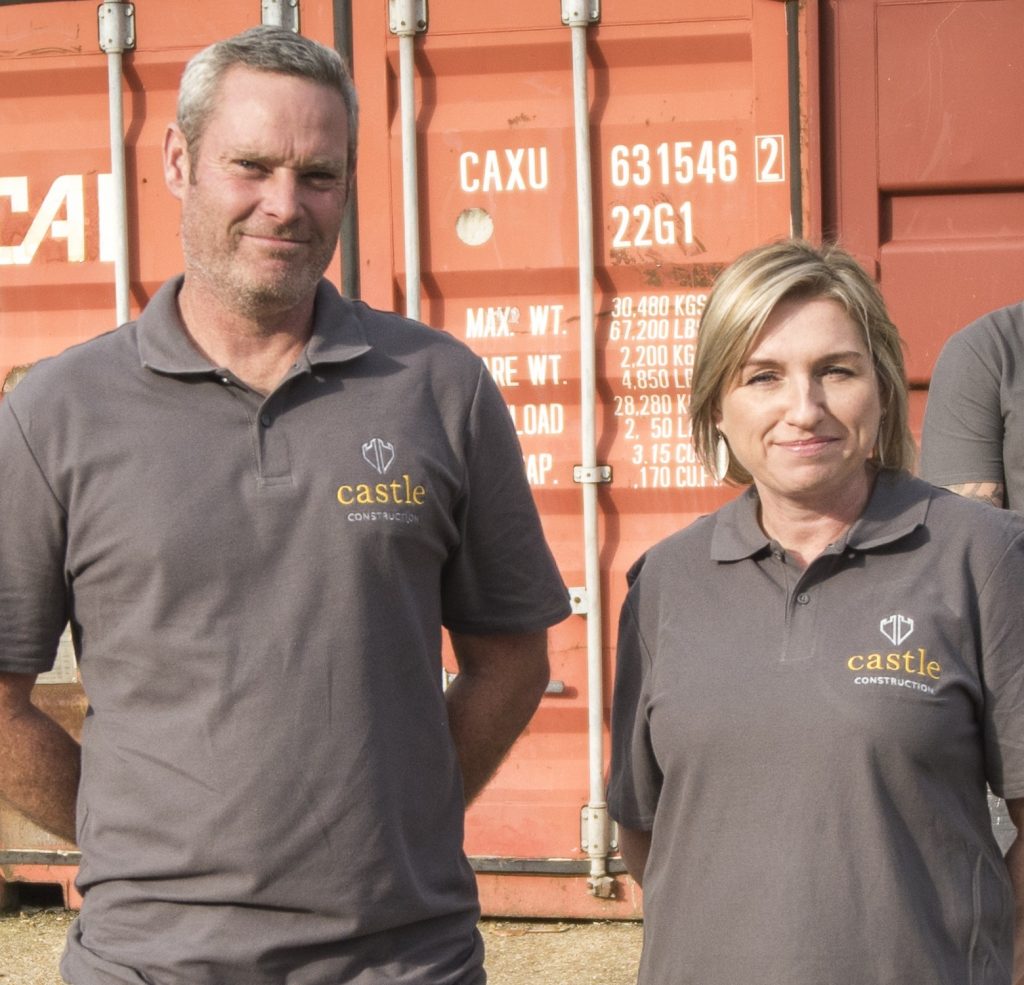 "It can be stressful being together all the time and we felt that it was important for each of us to do what we do best, so Scott, who has experience in large scale civil engineering projects concentrates on the construction work side and I am the customer facing side of the business," stated Rebecca. "This works well and whilst I sometimes moan about it, it does play to our strengths!"
Initially Rebecca brought the current team together in a workshop so that they could discuss their capabilities as a company and what they did well, which translated into their company values and mission. "Our expertise is in structural work, and we wanted to focus on what we were good at, rather than trying to win jobs that weren't really part of our core competencies," commented Rebecca.
This clarity of vision meant that they could be very decisive about the work that they took on, sub-contracting out any parts of jobs that did not fit that criteria. They provide construction services to residential and commercial clients for jobs that include extensions, basements and any job which requires structural work. "We require all clients to have read our Information Pack, which includes information about our service, case studies with costings and the questions they need to consider for their project." Rebecca added, "We also ask that all clients have a full complement of drawings unless we are providing the architectural work for them which enables us to be more selective about which projects we take on."
Traditionally, the company found work through referrals and recommendations, but they wanted to expand the reach of their offer and potentially attract new clients. "We knew that we needed to embrace marketing to achieve this but were keen to ensure that everything about our messaging reinforced our company values at all times," stated Rebecca.
She heard about GetSet for Growth Coast to Capital and their Invest4 grants through the company's membership of Business Network International, a global networking organisation. They got in touch with the team to discuss their business needs and worked with them to create a wish list of items to help them grow their business. "We didn't apply for a large sum, as our main need was around the website and our marketing activity," stated Rebecca. "Nicola was really helpful, helping us to ensure that the information we provide on our application form provided the funders with exactly what they needed to know."
"The help that GetSet for Growth Coast to Capital gave us was invaluable as even though we already had many of the documents required such as a business plan and financial forecast, it brought them together in one place." She added, "It was still a fair amount of work to complete the application but worth it in the end!"
Part of the work that the grant will help to fund, is the launch and promotion of a new partnership with Fresco Living who make garden rooms. This will add another offer to their portfolio of services in response to the growing demand for home offices and to create additional room for living and working within gardens. "The grant money will also help us to develop a tool on the website so that potential clients can proceed through the enquiry process more effectively to decide whether to go forward with their project with us," explained Rebecca.
"I love a challenge of a new project!" stated Rebecca, "the Invest4 grant has enabled us to push forward with our ideas to develop the business. We hope to establish the new offer alongside our core services as well as helping to develop our in-house teams. This is dependent on us attracting new clients and potentially bigger projects."
"My advice to any other business looking to develop is to be focused on the direction in which you want to travel and that your values and mission carry through everything that you do in the business." She continued, "Sometimes it can be overwhelming, but I would highly recommend the support from GetSet or Growth Coast to Capital and the Invest4 grant. For me, they really helped with planning cashflow during the 1:1 sessions we had."
For more information about Castle Construction, visit their website here, or on LinkedIn, Facebook or Instagram