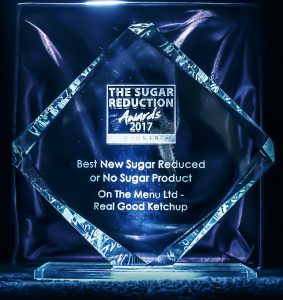 On the Menu Ltd is celebrating after winning the award for new best reduced-sugar and no sugar product at the Sugar Reduction Summit in November 2017. Their flagship product, Real Good Ketchup is a no-added sugar product and is certified 'free from added sugar' by 'Sugar Wise'. They received this evidence-based public health prize for their new low sugar ketchup from a panel of judges, comprising dieticians and academics. This award joins the two 'Free From' awards they have already won, including a Gold Award from Ireland.
The inspiration for the no sugar and low salt product range comes from founder, Elizabeth Jones, and her experience in having lived for the past 20 years with an anaphylactic son with allergens, and 'can eat' and 'can't eat foods'. As a small child he could not tolerate sugar, nuts or even fish. She decided to train in nutrition and dietetics to manage, how as a family, they were going to eat and get the nutrition that they needed. This process of determining what they could and couldn't eat formed the foundation of the Real Good range.
The current business focus is on the no sugar platform, driven by the rise in obesity in children; where 25% of all children in UK are either overweight or obese. Elizabeth explained that this would quadruple the risk of diabetes Type 2 in childhood or later in life. Her research has determined that if a child has a dollop of regular ketchup every day, this is the equivalent to eating 365 sugar cubes per year.
Their Real Good Ketchup has been developed using a plant-based natural route, using stevia leaf.
Getting a recipe right is not about just thinking about a sauce on a plate – it is all about the experience. It has to smell right, it has to look right and it also has to behave like regular ketchup – with the expectation that it sticks to the end of a chip – if you do not get the whole experience right then you will loose engagement.
"Because we have got the thumbs up from children – we know that we are on the right track", said Elizabeth Jones, On the Menu's founder.
It took around 20 evolutions to get to the right product profile. Having undertaken early trials with a primary school in Otterbourne in Hampshire they got received very positive feedback from parents and the children. With 80-90% of those who tried it, saying that they liked it and would buy it – so they had evidence early on that it was going to be a success.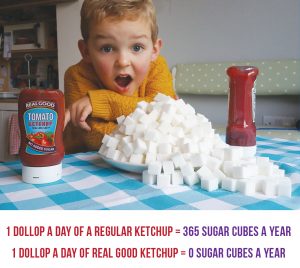 The testers said the Real Good Ketchup tastes more homemade and of more tomatoes. Elizabeth explained how the children were very honest in their feedback and that they embraced the flavour. Perhaps intuitively they knew that this is something that is good for them.
They have received very good reaction from parents with autistic children, where sugar is not good for them. Their customers also include those who are older, with dental issues, who have been advised by their dentists not to eat ketchup due to the sugar content. They are very pleased to have found Real Good Ketchup in their local Co-op stores, and are delighted to be eating ketchup again.
After 12 months, Real Good Ketchup is now in about 180 Co-op stores throughout the UK. They are also listed on Ocado and are in Whole Food stores.
Invaluable support from GetSet and Outset Finance
Elizabeth says that she gained very good insights, advice and support from GetSet and Outset Finance in the development of her business.
Elizabeth explained how GetSet provide an effective introduction of all the things that you need to know when starting a business. Their marketing toolkit was current and relevant, and she received help in defining the structure for her forecasting and planning, which she is still using now. She appreciated being provided with insights, feedback and support from GetSet, and particularly in having another set of eyes on what she was doing.
OutSet Finance was very proactive in supporting her businesses moving forward, particularly in providing assistance with funding.
"I would recommend GetSet and Outset Finance to people thinking about starting up or growing their business –having the support of one of the local offices is very important, particularly if you have not had the experience of running a business before. They have a very good step-by-step approach for someone starting from scratch".
She explained that the package Outset designed for her was perfect for her small business with growth potential. Outset Finance helped her gain funding for growth, which came at a time that they were launching Real Good Ketchup into the Co-op, and also wanted to get another product developed. They were accepted for a development loan, which Outset Finance packaged in a way that was very competitive.
With this, they were able to fully exploit the growth opportunity for launching their ketchup into the Co-op and were able to go ahead with their new product development and factory trials. If they had not had this support, they would not have been able to achieve the same level of success at this early stage in their growth.
An exciting future for the business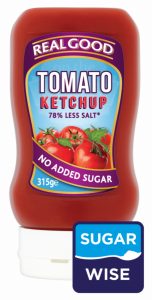 The future looks very exciting for On The Menu Ltd. They are currently in early stage conversations with another large UK retailer to take their Real Good Ketchup. Having carried out school trials and also spoken with a number of hospitals, they realise there is a market for a larger format product, so they will be developing a catering range of products next year.
They are going International too – having already started export of their products to Kuwait, where there are currently very high rates of diabetes.
On The Menu's customers say that they are enjoying the product, and people who were told they could not have ketchup are enjoying ketchup again. It is really for the needs of those people that Elizabeth set the company up.