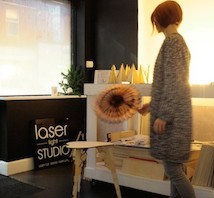 We visited an exciting new business in Bournemouth that has started up with help from Outset Finance and GetSet East Dorset. The Laser Light Studio employs laser cutting technology, initially intending to provide a range of home décor products, e.g. Nursery Room Products. The Laser Light Studio will also be running craft workshops once per month, with an aim to create a space to inspire people.
When founder, Karolina Roziecka, first came into contact with a laser-cutting machine she says she loved it from the moment she saw it. She immediately knew that there were so many things that you could do with a laser cutter.
She had had a disjointed journey – ended in her opening The Laser Light Studio in Bournemouth. Starting in Poland, she actually trained herself to use a laser cutter, then she become a full-time Mum and settled in Bournemouth with her new family. Having been a full-time mum for 2 years, she decided she needed to go back to work and she always knew that she wanted to continue with the same business – laser cutting.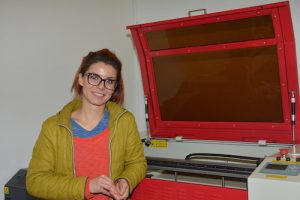 At this point, she started to look for an organisation that would help her set up her dream company. She knew how to use the laser cutter and business basics, but she wanted someone to help her. She found the GetSet East Dorset website and decided that they might be able to help. She remembers sending an email to GetSet on a Friday evening in July 2017, and getting a reply first thing on the following Monday morning offering a 1-2-1 meeting with a GetSet financial adviser. She says GetSet was extremely helpful from Day-one.
"GetSet said that I had a great idea, that they believed it would work and just said let's get started!"
Outset Finance helped secure a Start-Up Loan
Karolina explains that she had initially had difficulty with how to gain funding for her new venture and had first thought about trying to get funding on Kick starter – but she believes that would haven taken a long time.
Before she was put in contact with Outset Finance, she had never thought about a business loan. She met with Rob from Outset Finance in July, and he invited her along to 2 workshops. Through the workshops and 1-2-1 advice, Outset Finance helped her to write a realistic business plan for her online and bricks and mortar business.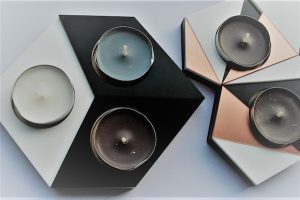 She was successful in gaining a Start-Up loan of £17k through Outset Finance, which allowed her to purchase her own Laser cutter, fume extractor and other necessary equipment and stock. She bought raw materials to build a bench and a new computer. Outset Finance also helped her to find perfect new premises, with two floors – enabling her to do design, fabrication and construction on-site.
With the loan, she got 12 month mentoring with Rob. She is very grateful to have that opportunity because she feels that there is someone there that can always help her when she feels she is stuck.
Marketing help was in abundance from GetSet East Dorset
When Karolina found out that GetSet offered lots of free workshops, she started to book as many as possible. She attended financial ones and the marketing ones (e.g. Twitter, Branding, Facebook marketing). She found them extremely useful and she realised how little she knew the first time that she opened her business in Poland.
"I would definitely recommend others to GetSet and Outset – especially the companies that are very young. The problem with start-ups is that they all have a great idea and they think that they know everything – but in reality they know very little and therefore it is very easy to make mistakes".
She also enjoyed the networking element to the workshops – where all participants exchanged opinions, ideas and experiences. Many people who came to the workshops already had their businesses started-up and others were just at the beginning.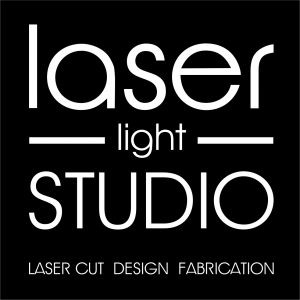 She recommends getting in touch with GetSet, or going along to the workshops and to get as much information as possible. She went to one of the workshops on branding. Before this, she had not done any customer profiling and she thought 'Why do I need to do that? I want everyone to be my customer'. However, did define her customer profiles, and now really understands who she should be marketing to.
Although only a month into her new premises, the future looks very exciting for Karolina. With her artistic background she has many ideas for her company, and will be using different sorts of media to create them. She is also really excited about her workshops and developing a creative community around The Laser Light Studio.