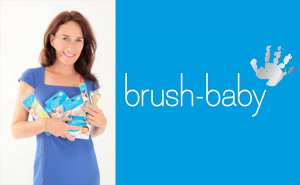 Brush-Baby started out as an idea of founder and mother Dominique Tillen to help address dental decay, one of the world's most preventable diseases, through enabling parents to help children take care of their teeth – even before they have them!
Over 500 children are hospitalised each week for dental extractions, and a third of primary school children have some form of dental decay. Dominique devised a range of products, including tastebud-friendly toothpastes, easy-grip Silicone Chewable Teether/Toothbrushes and Mini Electric Toothbrushes, helping parents establish a routine for children to transition through, once their behavioural skills and manual dexterity skills have developed sufficiently.
Having grown a very successful UK business, with Brush-Baby products in the major supermarkets, John Lewis, Mothercare, Superdrug and JoJo Maman Bebe, and a trade line through dental surgeries and distributors in 22 countries, Dominique was facing many of the challenges of growth.
Like many manufacturing and distribution businesses, long lead times from manufacture to payment was impacting on cashflow, the lifeblood of any business. And after 8 years, it was also time to take the next big step, with outside, impartial and experienced support to help prepare the business and its founder to grow to international level.
As Dominique says: "as a business owner, you're not only a manager of products, money, people and ideas, and trying to stay one step ahead of the game, so ambition and ideas can often get lost. I was getting bogged down in the day-to-day minutiae of the running of the business".
Dominique worked with GetSet Solent for three months. During this time, they helped her secure a £1m financing facility, revisited and structured her business plan with dates, responsibilities and measurable outcomes, and assisting her with her new marketing strategy. A monthly coaching session with their marketing advisor designed to stop, step back, and work on the bigger picture helped ensure Brush-Baby stayed on track with its plans for growth.
An additional salesperson was recruited, the business moved from reactive to proactive, together with new marketing activity to achieve the targets in the business plan. A great foundation from which to achieve Brush-Baby's goal to be the 'go to' name in dental care products, and a game changer in dental health.
Dominique concludes: "I would highly recommend any business owner to use GetSet for Growth – it's one of the best Government initiatives that I have ever found. The business advisers have gained knowledge of various industries and bring a wealth of experience to their roles."