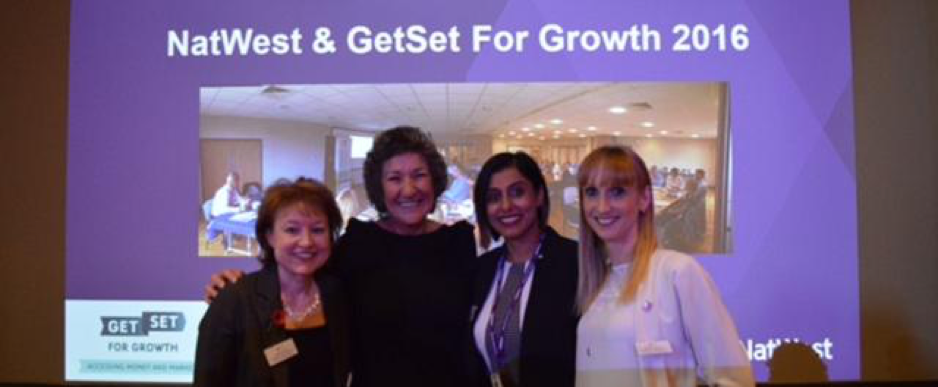 From left to right: Kathy Poole- Partnership Manager at GetSet for Growth, Bev Hurley CBE- CEO at YTKO, Rashpal Martin- Regional Head of Business Development at NatWest Bank, Gemma Bourne- NatWest Business Growth Enabler, Staffordshire & Shropshire
In November, NatWest business team joined forces with the Staffordshire Chamber of Commerce and award-winning business support service GetSet for Growth to host an inspiring afternoon celebrating local women in business.
Part of this year's Staffordshire Business Festival, over 100 attendees enjoyed an afternoon of networking with their peers and an inspirational presentation from guest speaker Bev Hurley CBE, CEO of YTKO. Bev shared her frank and refreshingly honest experiences from the front-line of building and running a business, including the challenges she's faced along the way and how she continues to tackle them.
The event also successfully raised over £1,000 for Alice Charity, who support vulnerable families in Newcastle-under-Lyme and Stoke-on-Trent, with Sam Warrilow, Fundraising Manager and her team supporting on the day.
Feedback from attendees on the day has been fantastic, with many highlighting the new contacts they made and the refreshing nature of the speaker. Elizabeth Steel from accountancy firm Moore Stephens said, "There was a very warm, inclusive atmosphere and the speaker, Bev Hurley CBE, was inspiring, challenging and encouraging, with a humorous take on life."
Gemma Bourne, NatWest Business Growth Enabler and Women in Business Ambassador said, "It was a fantastic day supporting so many local business women in Staffordshire and showcasing the great work that NatWest and GetSet for Growth have done in Staffordshire over the last 6 months. It is great working with valuable partners like Staffordshire Chambers of Commerce and GetSet for Growth to help to support businesses in Staffordshire to grow."
Discussing the festival as a whole, Sara Williams, CEO of Staffordshire Chambers of Commerce, said: "The festival was created in a bid to bring together what is a fantastically diverse business base across Staffordshire and we believe that it has done just that. A huge thank you to all of our sponsors and partners for their support in making this festival such a success."