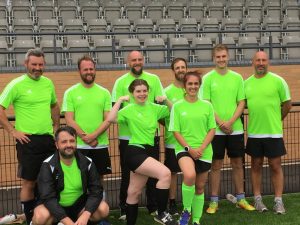 Our West of England 'GetSet for Goals' mixed football team recently had a wonderful time competing in a weekend charity football tournament in support of the 'Well Beans' initiative.
Based in Bristol, this social peer network helps start conversations surrounding mental health and provides a compassionate culture in which individuals can engage, with the ultimate aim of reducing social isolation. Through their range of services such as training, wellbeing workshops and local events they continue to assist individuals with mental health to empower themselves and those around them.

This enjoyable event truly showed the spirit of coming together as a team and highlighted the importance of caring for your emotional and mental health – an essential for any business owner and their employees.
It was well attended, showcasing some impressive skills from other local Bristol organisations too, to help raise awareness and funds for other amazing charities including 'Headway Bristol'- a local charity which assists individuals who have experienced life changing brain injuries to live as independently as possible.
Hosted at Dings Crusaders RFC, the team really enjoyed battling it out with a partner organisation, the Young Entrepreneurs Networking Association – YENA, who ended up deservedly victorious in the tournament.
The event was a great way to all come together and the team are already looking forward to bringing the trophy home next year!