Hitting the right notes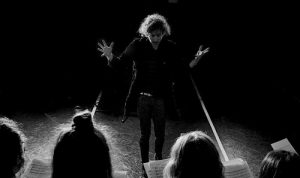 We spoke to the founders of On:song George Bell and Greg Shaw to find out more about their business and the growth support they've received from GetSet London.
Started in 2016, On:song runs choirs for workplace teams, building community and team cohesion in a fun and inclusive setting. Singing together has been shown to improve well-being and mental health among staff, and once a week for a twelve week term, either at lunch or after work, they send a conductor ('segnos') into a designated workspace to lead a choir, made up of employees, and take them through their paces. They also offer one off sessions for conferences, away days festivals, events and a mobile app!
The team were clear on their core offering and wanted to present and articulate it in a way that made them stand out more from the competition. They also needed to better understand their customers and gain a more thorough insight into their approach to employee wellbeing. As with most startups, another major challenge was raising finance, and structuring the business financially to be able to grow sustainably.
George says: "Orsi and Tahir were incredibly helpful in providing expert and insightful consultancy, first gaining a thorough understanding of what we were trying to achieve, and then helping us to clarify our mission, our goals, and crystallise the problems that we are solving, on a day to day level and indeed on a more fundamental level!"
This focus on customer need was then pulled through all of their promotional copy, including their website, social media and external communications with potential clients. Through our 1:1 support, the team were also made aware of many potential sources of funding and our range of finance seminars helped to improve their knowledge base in key areas such as cashflow too.
Speaking about the service as a whole, George says: "Our experiences have been incredibly positive. Thanks to GetSet we are in a far more advanced position in terms of our development than when we started, and we are able to face the upcoming challenges with a much more confident commercial mindset and a stronger brand."
Looking ahead, On:Song wants want to continue to improve their service, and to have the tech and manpower to support this in the most ambitious and quality way possible.
If you are looking to grow your business in East or South London and would like access to the support GetSet for Growth has to offer, register your details.