Fuelling a plan for growth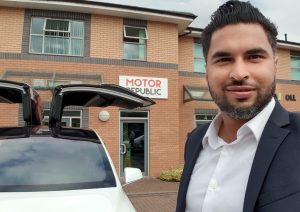 We spoke to the owner of Motor Republic based in Tower Hamlets, Sarwar Hussain to find out how our service 'Growth Businesses' has helped to move his business forward.
Motor Republic is a brokerage firm and a national franchise. It helps businesses and individuals secure new car or van lease agreements based on vehicle availability and at competitive rates working with a panel of funders.  It has a clear understanding of its customer base too and targets both professionals and business owners.  
In his first year of trading, Sarwar was keen to focus on developing his marketing and sales pipeline together with strengthening his organisational skills.  Accessing our 1:1 advisor support was very beneficial – the initial growth diagnostic identified the opportunity for him to access a Start Up Ready Grant and the team worked closely on his business plan and financials to help secure this funding. 
Sarwar was able to build his wider knowledge base further by accessing our range of workshops covering marketing strategy and business planning too.  This has given him plenty of scope to increase awareness around the business and promote the value of leasing as a considered choice.
Finally, additional support from our Supply Ready team meant that Sarwar can now identify new pipeline opportunities, increasing the chances of success in tendering for larger contract opportunities.
Sarwar is on a mission is to become part of a leading vehicle leasing brand in the UK.  Looking ahead, he has a clear vision for the business and a renewed focus to recruit additional staff and source new, larger premises. 
 Sarwar says: "I would definitely recommend this service.  The program helps identify areas in the business that need improvement and the support to put a realistic plan in place to achieve the necessary change."