Measuring your social media marketing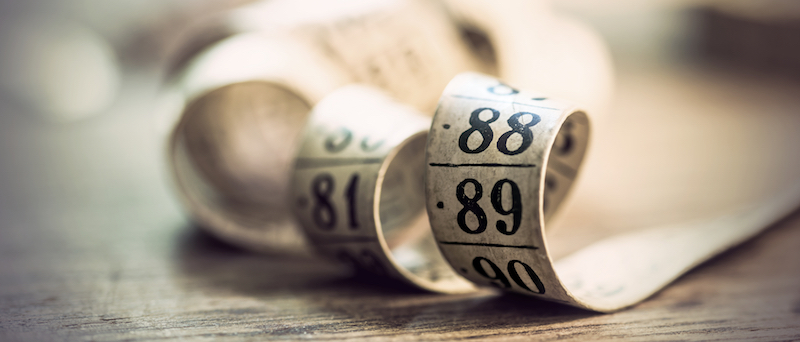 As a growing business, it's likely social media plays a part in your overall marketing strategy. And for good reason. When done well it's an effective way of engaging with your existing customers and attracting new ones. But, when you're looking to scale-up, ensuring all your marketing efforts are considered, measured and have a specified timeframe in which to deliver results is essential to guarantee you're achieving the results your business needs.
Many people get nervous when it comes to the statistics of social media. They don't fit neatly into traditional marketing measures and the techniques you may be using to measure other marketing might not be applicable. But don't be put off. It's important to remember that social media is scalable. You do not necessarily have to start off using all of the metrics at your disposal. You may want to start out with some basic metrics and build up, adding additional measures as you grow and develop your campaigns.
Looking at social media measurements as a whole, you can easily divide them into three separate categories: Audience reach, Engagement, and Sentiment.
Audience reach
This is an indication of how far out into the public arena your social media presence has extended. Some of the measures include the number of fans or followers, and the percentage of mentions of your brand, products or services, compared to your competitors.
Engagement
Engagement is a measure of how an audience is interacting with you and their response to your messages. This includes the number of people following you and the number of likes, mentions, replies, shares, retweets and clicks the content you share receives.
Sentiment
This is an indication of how favourably or unfavourably the public responds to your message and/or your products and services. The most common sentiment is going to be neutral – often indicated by low engagement. Positive sentiment can be measured by high engagement and positive comments that ought to be noted and responded to. Negative comments are not necessarily bad, as your content has provoked a response from your audience, but it's especially important to keep on top of them from a customer service point of view. Negative comments on your service or products should be responded to quickly and efficiently.
Social media platforms can provide you with ways to measure any or all of the above categories. Below, we've focused on their inbuilt analytics functionality.
Facebook
Your metrics can be found on the Insights page, which is located in the top menu of your Business Page. Metrics on this page can be segmented by date (in a similar way to Google Analytics) and include the following:
Page Likes
Page Views

Post engagement including:
Reach
Click through rates
Reactions, comments and shares

Pages to watch
Your fans – including their demographics
People reached
People engaged
Each of these metrics allows you get a greater understanding of the performance of your Facebook campaigns. Post engagement covers the reach (number of people your posts were served to), click through rates and other reactions to each of your posts. Click through rates, also known as the CTR measure the effectiveness of your posts in encouraging users to click on your content. These are the visitors who actually took the time to look at your content and did something. Grouped with reactions, comments and shares, these are all engagement metrics that can help you to decipher the content that gets the best results.
The people section of Facebook insights gives you a deeper delve into the demographics of your current fans, the people you have reached and those you have engaged. This includes data such as gender, age and location which can be used to tailor the content you share. For example, you may have a large group of followers in Cornwall, so may wish to promote seasonal promotions tailored to the tourism industry.
Twitter
Twitter's analytics platform now gives you far greater metrics to study than their previous inbuilt reports. You can find out basic data such as your total count of followers, the number of retweets of content, and number of mentions you've received, all of which can be segmented over a particular time frame. This can be especially useful for tracking your success over a set period of activity. It also gives engagement metrics such as the impressions of each tweet (your reach) and the number of engagements each tweet received, including retweets, clicks, favourites and replies which are used to calculate an 'engagement rate' for each tweet. The audience section also provides some demographic information about your followers, including their gender and language and, perhaps most interestingly, a summary of their most common interests, allowing you to tailor your content accordingly.
LinkedIn
LinkedIn does a lot to help break down the demographics of your followers and page visitors which can be extremely helpful when you are formulating ideas for any campaign and who you're looking to target. This provides an idea of whether you are reaching the right people with your activity. The metrics LinkedIn offers include:
Your total number of page followers and page visitor
Their level of seniority
Their industry
Their business size
The results of each of your updates including:

Impressions
Clicks
Interactions (likes and shares)
Engagement rate
Pinterest
Pinterest really does go out of its way to help you get the right measures. Pinterest Web Analytics has the kind of measures that give you a great picture of how you are doing on this particular platform. You can expect to be able to find:
Total number of followers
Pins from your websites
Number of re-pins (very important because it shows people are pinning your pictures to their boards)
The number of followers re-pinners have
Impressions and reach.
You will have to verify your website before you can use the analytics, but that isn't difficult, and Pinterest has instructions on how to do it.
Youtube
The YouTube Dashboard is where you will find your metrics. Demographics can be downloaded and opened in Excel. You can also find information about playback locations, views, and traffic sources. The only difficulty with YouTube is you will have to do a little extra work in order to get the information that you need.
As you can tell, social media can provide you with a wealth of information about how your campaigns are doing and how you are being received. We've only included each platform's inbuilt analytics. There are hundreds of additional tools out there such as Hootsuite, Followerwonk and Sprout Social to name just a few which can provide even more reporting functionality. What's important, is how you use this data to inform your social media strategy and where you are placing your focus.
The metrics are there to help you measure your Return on Investment (ROI) so if something's not working, you can understand why, how it could be improved and most importantly whether it's worth your effort at all, or if your focus would be better served elsewhere.
Interested in finding out how you can develop a more effective social media strategy for your business? Get in touch with the team by calling 0800 756 0811 or visit our events page to book your place on one of our specialist seminars.