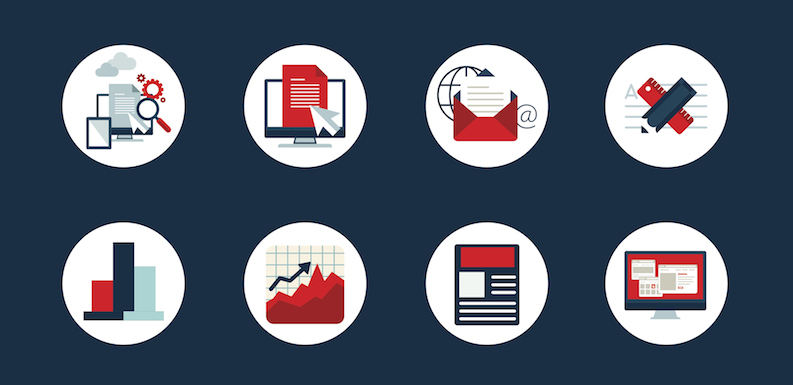 This is the third part in our series of blogs for manufacturers where we provide tips on in-bound marketing activities that will help you meet your top priorities, such as:
• Generating more high quality leads
• Controlling marketing costs and proving return on investment
• Staying ahead of your competition
Inbound Marketing is key for manufacturers
In our previous blogs, we discussed how 'Inbound marketing' comprises a core base of marketing activities that result in a positive and constructive buyer's journey.
In our last blog we discussed two of the five major outlets for your inbound marketing strategy; your website and SEO/PPC. This week, we discuss the final two outlets
• Social Media
• Email
We also discuss how it is important to ensure your content and website are mobile-friendly.
1 Social Media
Today, there really aren't many businesses that don't know the power of social media. Your social strategy isn't going to incorporate every major channel, nor should it, but it is vital to use social media platforms that your target audiences are using.
In 2015, LinkedIn was the most widely used social media platform by manufacturers, although many are now finding that YouTube may be more effective. In fact, 89% of manufactures utilise LinkedIn, but only 54% find it to be an effective marketing platform – versus YouTube's 66% effectiveness rating.
Here are few great examples of video and LinkedIn marketing by manufacturing companies:
GE's YouTube Channel
GE is a powerhouse when it comes to advertising. With over 400 videos and thousands of views per video, they provide a great example of video marketing done well. Their budget for video marketing may be larger than some company's total revenue, but nevertheless, their work could be scaled down to fit any company's needs.
John Deere's LinkedIn
They do great content marketing. See how their LinkedIn mixes video, content, and personal photos from their followers.
Mattel, Inc.'s LinkedIn
Mattel's LinkedIn is bright, colorful, and entertaining, exactly what you might expect from a toy manufacturer. Everything they create is on-brand and cohesive. They are a great example of a company you may not traditionally expect to engage with on LinkedIn, but with over 80,000 followers, they seem to be doing a pretty good job appealing to their target audience.
Social is a great avenue for showing the friendly side of your business; it's a way to humanize your company. Manufacturers need to remember, just as any other B2B business does, that people want to buy from people – and not only that, but from people they trust… from people with whom they've forged some type of relationship.
What's also great about social media today is that it's become highly targeted. On the paid side, you're able to affordably boost posts (perhaps marketing a specific resource, webinar, white paper, etc.) to a very precise demographic of people. Like Google, Facebook is also getting better at defining user interests – and this knowledge also organically influences what shows up in someone's FB newsfeed.
Whether you are looking for inspiration, guidance, tips, best practices or the latest industry developments and trends, there is a host of people and companies in the manufacturing sector publishing and sharing outstanding content on Twitter. Doing a keyword search on Twitter is a quick and easy way to find out what people in your industry are talking about, identify accounts to follow, and discover new business opportunities.
Whilst you might not immediately class YouTube as a social network, you could argue that it is the biggest social network online. It's not just a place to put your videos. YouTube is the social media platform that completely elevates your content.
2. Email
Despite the rise of social media, email remains the most effective way to nurture leads and turn them into customers. According to a June 2016 survey of US marketers conducted by the Direct Marketing Association (DMA) found that email had a median ROI of 122%—more than four times higher than other marketing formats examined, including social media, direct mail and paid search.
Therefore email marketing can be a powerful driver of sales & revenue for your business. It has a greater reach and return on investment than any other channel available to marketers today, so it is really a no-brainer to make email marketing a key element of your sales and marketing activities.
There are hundreds of quality email marketing software options on the market today. The key to choosing which is best for your business is to understand what you are looking to get out of the software.
To start building an email list, you need to get permission from people to use their email addresses. Alternatively you may wish to purchase a 'cold list' of emails from one of the 200+ companies offering mailing lists in UK.
You would implement different types of email campaign to achieve your specific marketing goals. Two of the most popular are:
a. Newsletter
An email newsletter is a regularly distributed email campaign that is generally about several topics of interest. If your goal is to keep in touch with a list of people you already know (i.e. existing customers), then a newsletter is the perfect type of campaign to send. It will keep your manufacturing business and your products top of mind and drive people back to your website.
b. Promotional Offer
A marketing offer email is essentially any campaign you send with the goal of driving a direct response, e.g. a campaign showcasing your latest product developments and encouraging people to purchase
Mobile-first, Constantly Connected
More and more, people are using their mobile devices instead of desktop set-ups to search for the information they need. Whether on the go, or first thing in the morning, your customers are using their mobile devices as pocket-sized personal computers.
To capture their attention and give them a good online experience with your company, make sure your website and content look great and function well on any screen size. Using a mobile-responsive design can help you capitalise on this must-have functionality.
GetSet Midlands can help you create your in-bound marketing strategy
Many larger manufacturers have their own sizable marketing teams, however most small to medium sized manufacturers simple can't justify this. As a result it may make sense to outsource your marketing function to GetSet Midlands who understand the requirements of manufacturing industry.
With many years' experience, our team of marketing experts will take you on a straightforward, cost effective and practical route to growing sales, increasing profit and reaching more customers. We are actively helping manufacturers develop winning marketing strategies.
Please visit our website for more details or call to speak to one of our marketing specialists on 0800 917 9881.