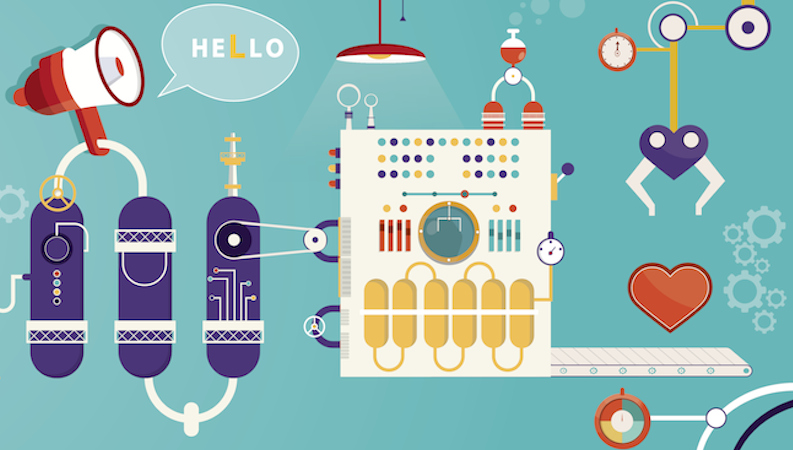 Traditionally, marketing was always a linear path – people saw an ad, they were interested in the product, so they went to their local store and bought it. However, with the rise of digital and social media, customers are now researching information on their own. The same goes for engineers and technical buyers, who do most of their research, evaluation and final selection of a vendor very differently today than in the past.
Buyers are looking for information online and will only interact with sales people on their own terms. Your lead generation and marketing therefore needs to evolve to meet their needs. Otherwise you are going to struggle generating qualified leads that turn into sales opportunities.

Why your marketing strategy is so important
Manufacturing companies need their marketing departments to lead from the front, align marketing strategies to fulfil sales goals, and all marketing activities must be optimised to improve ROI. They must switch from traditional marketing tactics to modern, inbound marketing (i.e. blogging, social media, video etc.) The role of the marketer for manufacturing companies must now focus on pulling in an audience by creating a personalised experience that resonates with your potential customers
Through the embrace of digital technology and modern marketing processes, manufacturing companies can gain deeper insights into who their customers are, what their specific needs are, and can create messaging and propositions that resonate with their markets, helping to increase their brand profiles and their market share.
There is no one size fits all marketing strategy for the manufacturing sector. The industry is comprised of thousands of businesses, divided into millions of products, all for different target audiences.
So, by generating a comprehensive marketing strategy, specific for your business, will ensure that your company stands out from the competition and is first choice of your target market. We have put together the following framework to help you create your own marketing strategy. Follow this and you will be well on the way to implementing marketing tactics that are customer-focused and will drive them to your website and generate qualified leads for your sales team to close.
Key steps in developing a winning marketing strategy for your manufacturing company
1. Define Your Goals
You have your overall business goals for the year and know the metrics you need to measure to ensure your marketing tactics are delivering those business goals (e.g. average revenue per customer, close rates etc.
2. Target Markets
You have narrowed down the competitive environment to the key markets in which your business will operate. This includes the markets, locations and types of customers you will target. Profiling your prospects is critical, particularly in how they are likely to find information about new suppliers.
3. Customer Needs
Understanding your 'ideal client' will allow you to identify where you should be concentrating your marketing and sales efforts. What are the wants and needs of your prospective clients that you can deliver – and deliver better than the competition? What is it you can deliver that your ideal customer will see as 'value'?
4. Knowing the competitive landscape
You must define what value you are able to deliver to your market. And this value must be recognised and acknowledged by your prospective clients. This is about how you can create a competitive advantage – for you and your prospect/client.
You must also understand the competitive environment and the trends in your market – they are never standing still.
5. Your Marketing Capability
You need to consider what resources you have/ need to deliver your strategy – ask yourself "what capabilities do I need?" and "what structure and systems do I need?". You also need to analyse the success of your previous marketing tactics to determine which you will optimise going forward.
6. Your Competitive Strategy
Ultimately there are only three ways to win business. You compete on price, on value or you compete on product/service differentiation:
Competing on price means your business needs to focus on increasing volume to achieve reduced cost of manufacture.
If you choose to win through differentiation and added value, you need to clearly understand what your customer sees and defines as value. Many argue that to compete through differentiation you require a 'uniqueness' that clearly differentiates you from your competitors, but ultimately it is about having a value that is recognised by your prospective customers and for which they are prepared to pay a premium.
In summary, your marketing strategy includes a definition of your business, a description of your products or services, a profile of your target users or clients, and defines your company's role in relationship to the competition.
7. Marketing Budget
The average small to mid-size company spends 10 – 15% yearly revenue on their marketing. The goals that you set up should have a strong influence over where your marketing budget is spent. Think about the different inbound and outbound marketing activities that best suit your objectives and map that to an allocated master budget.
8. Measure Return on Investment
If you don't measure your marketing's ROI, then you have a serious problem. In all honesty, you could be throwing away your money. The process doesn't have to be difficult. Begin by selecting an analytics tool; the most widely used is without a doubt Google Analytics to measure your website traffic.
Define Key Performance Indicators (KPIs) that absolutely matter whether your marketing is a success or not. The best part of the entire manufacturing marketing plan is, once you have collected the ROI data, you can use it to go back to the start, find the weak points and re-adjust accordingly.
The marketing strategy is essentially a document that you use to judge the appropriateness and effectiveness of your specific marketing plans.
GetSet Midlands can help you create your marketing strategy
Many larger manufacturers have their own sizable marketing teams, however most small to medium sized manufacturers simple can't justify this. As a result it may make sense to outsource your marketing function to GetSet Midlands who understand the requirements of manufacturing industry.
With many years' experience, our team of marketing experts will take you on a straightforward, cost effective and practical route to growing sales, increasing profit and reaching more customers. We are actively helping manufacturers develop winning marketing strategies.